"Mandalas for a Time of Quarantine" • Public Art • Selected artists create meaningful and timely messages on boarded-up windows of the SoHo neighborhood, New York City • Curated by ART2HEART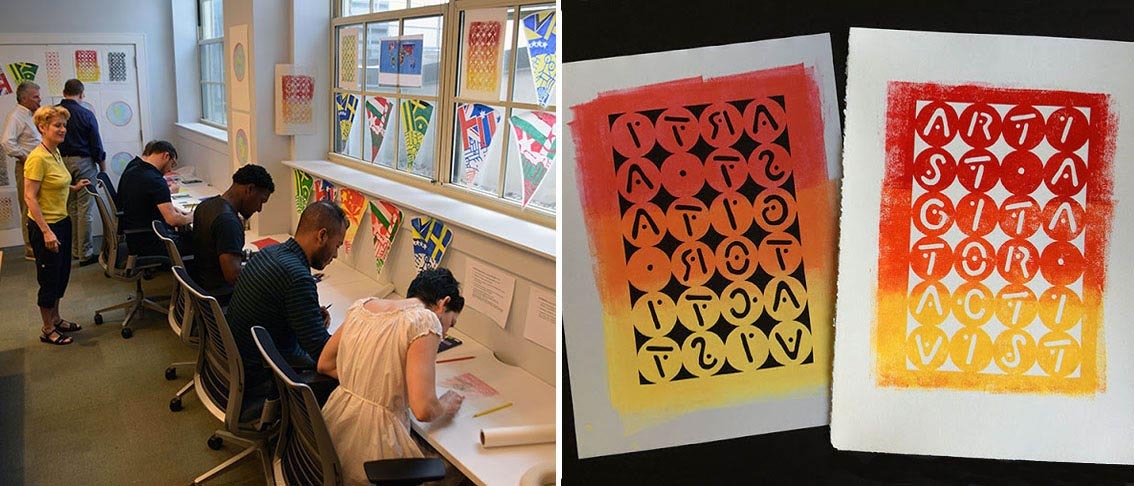 "Migrations" Workshop • Participants respond both visually and verbally to DOEprojekts' "Global Waving" and "Migrations: Hot Buttons."
"TRIO" • Participants play the drawings in this unique sound book. The book includes an introductory text, an Ototo synthesizer, 12 alligator clip-leads, two DOEprojekts' original Coreforms conductive paint drawings.
"Place Setting" • Participants are invited to sit at a single "place setting" depicting Elks Veterans medals in the rotunda of the Elks National Veterans Memorial, Chicago.
"Wetware/Wetwear" • Participants interact with DOEprojekts' unique life jacket made of an invasive water species found in the Hudson River Valley, the Eurasian Water Chestnut • Inaugural art action at the Catwalk Art Residency.
"Gestures of Hybridity" • Participants play sounds/tunes by gesturing with a custom brass stylus on Coreform graphite drawings • DOEprojekts "hybridity" installations and studio workshops at Hyde Park Art Center, Chicago
"Landmark" Series • Temporary Public Landmark • Bryant Park, New York City • Performed in numerous locations in the US
"Landmark Home" • Participants, both human and non-human, are invited to find "home" through sight, smell, sun's azimuth, and earth's electromagnetic energy • Installed in various sites in the US
"Backbone" • Participants are invited to interact with a unique mantle made of African fish vertebrae, Asian bovine bone, and USA steel wire • Various sites in USA and abroad • First performed in 2014, created by DOEprojekts.
"Just Us At Work" • 100 days of on-site Art Experiences and Artifact creation, initiated and led by DOEprojekts • Amtsgericht (Offices of Justice) Kassel, Germany. Artists from the Keiskamma Art Project, South Africa, were co-participants.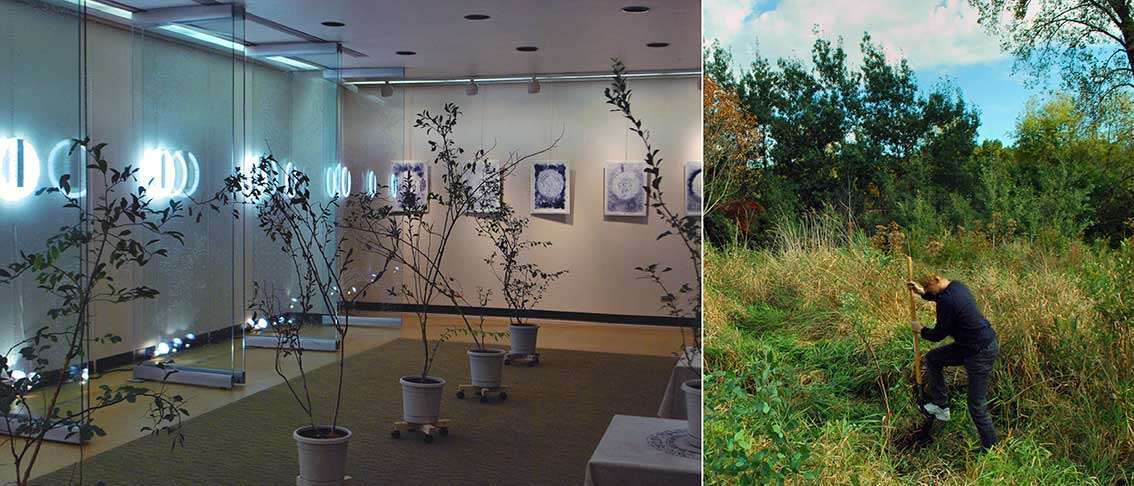 "Eye Eat Too" • Gallery and Field Installation • Blueberry trees, monoprints, full-spectrum lights • Illinois Institute of Technology • Chicago
"Code for the Grand River" • Temporary Public Art Experience • Non-toxic Lawn Paint • Grand River, Grand Rapids, Michigan